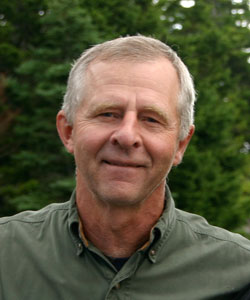 Dennis Gill was born in 1950 in Halifax, Nova Scotia. He received his MFA from Western Michigan University in 1974 and his BFA from the Nova Scotia College of Art and Design in 1972. His solo exhibitions include Now and Then (1993), Saint Mary's University Art Gallery, Halifax and In the Heat of the Moment there is no Reason (1987), organized and circulated nationally by Dalhousie University Art Gallery, Halifax.
His group exhibitions include Manifest: Thierry Delva, Dennis Gill and John Greer (1997), orga- nized and circulated by Sir Wilfred Grenfell College Art Gallery, Memorial University of Newfoundland, Corner Brook, Newfoundland; Thierry Delva, Dennis Gill: Recent Work (1997), Eyelevel Gallery, Halifax; Second Skin (1995) at the MacDonald-Stewart Art Gallery, Guelph, Ontario; Conceptual Art: The NSCAD Connection 1968-1974 (1998), Anna Leonowens Gallery, Halifax; Sculpture Expo '94 (1994), City Centre Atlantic, Halifax, and Subject/Matter (1993), The Art Gallery of Nova Scotia, Halifax.
In 1997, Gill won the Canada Council's Paris Studio award for the second time. He is the recipient of several other Canada Council awards including an artist A Grant in 1999. Gill has taught sculpture at the Nova Scotia College of Art and Design and at Mount Allison University, Sackville, New Brunswick. His work is held in many private and public collections, including the Art Gallery of Ontario, and the Nova Scotia Art Bank.
He currently lives in Dwight, Ontario.